I guess that watching "Escape from LA" standalone might be alright, but watching it a few days after "Escape from New York" is a strange experience. There's a 15-year gap between the events of the two movies, and a 15-year gap between the original and the sequel being filmed. But despite it being a sequel, it feels more like a remake because it follows all the same plot twists, just altered a little.
Here the differences begin to show. As I mentioned, "Escape from New York" was a zombie movie in disguise. This is a Western.
Again, Snake is caught and awaiting being sent to another prison island. Again, someone ejects on this island shortly before, this time not the President himself, but his daughter. Again, Snake needs to recover not so much as the daughter, she is to be disposed of, but what she carries in a briefcase. And again, he is injected with something lethal with a strict time limit. There is even a crazy ruler of the island that plans an escape. This time a Latino, and not a black guy, though.
This time Snake uses a submarine and acts as an idiot immediately, without waiting for the final sequence, as with the original minefield run, losing the submarine and thus his means of return in the process. Seeing the ruler, he decides just to take all his convoy head on, by himself. Here the budget begins to show: there are lots of explosions. The whole scene is just ridiculous, with Snake riding a bike on a single wheel, and fighting a guy on a horse for some reason.
Interesting how they tried to incorporate anything fashionable. In the original, Snake had to fight in a ring? Now he has to play street basketball. And the crowd cheers him in the same manner.
What else is fashionable? Surfing? Sure, Snake can surf!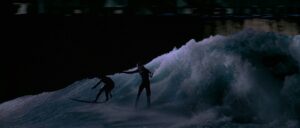 Turns out, I vaguely remember the ending where Snake blasts the entire globe with an EMP, and Pam Grier's character, which is supposed to be trans, a novelty in '96.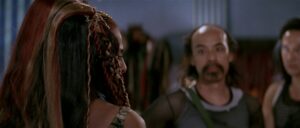 I also misremembered, thinking that throughout the movie, characters are referencing to the events of "Escape from New York." They mostly talk about Cleveland, which is never depicted in movies, but was retconned in comics.
The only notably good part is the ending. It ties nicely the ticking virus plot (which turns out to be a fraud, nothing more than a flu), and the holograms from the beginning of the movie, and the fact that Snake refuses to take either side of the American fascists or the socialist invaders from Mexico and Cuba.